My OpenPlotter Screen, Custom Pi-Hat, and Hardware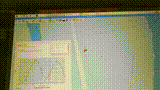 Screen and Keyboard
I bought two of these screens because I love the low power consumption and ability to run off my 12v DC in the boat without turning on an inverter. I didn't know which size I'd like the best and I ended up using the 13.3" for my navigation system and the 15.6" for onboard entertainment.
Custom RPi HAT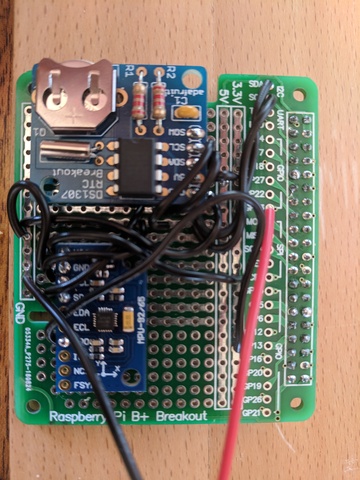 RPi HAT prototype board
The prototyping style RPi HAT boards are what I used to create a solid connection to the compass, accelerometer, piezo and Real Time Clock. I bought multiple HATs in-case I had problems soldering and also to create a future redundant HAT.
Compass and Orientation
OpenPlotter supports these IMU chips.
I used this one although it was labeled as a 92/65 when it arrived.
Real Time Clock
Having a Real Time Clock (RTC) is important because then you don't need an internet connection to have the time be properly set when the Raspberry Pi starts up. If you don't have the right time set on the PI then you won't have the correct tide/current information!
I followed this guide to enable the RTC in raspbian.
Anchor Alarm buzzer
I also added a small piezo buzzer for anchor alarm that alerts me via OpenCPNs watchdog plugin. While the screen can play normal anchor watch alerts via the HDMI sound I like having the piezo so that I can use even less power if necessary by turning off the screen while anchored.
AIS
I inherited a Standard Horizon GX2100 VHF radio that I've connected via the serial connection. These are no longer being produced.
If I was starting a build today I'd probably use one of these. This eliminates the need for a second serial connection.
GPS
My boat came with two GPSs. The one I connected to the RPi is a FURUNO GPS Navigator. It's pretty old but it works.
USB to Dual Serial Cable
For NMEA signals from my GPS and AIS radio I used this cable. It's nice because it's a single USB connection with two Serial ports.
Serial Breakout Connectors
I plugged one of these connectors into each Serial port and connected the GPS and AIS wires accordingly.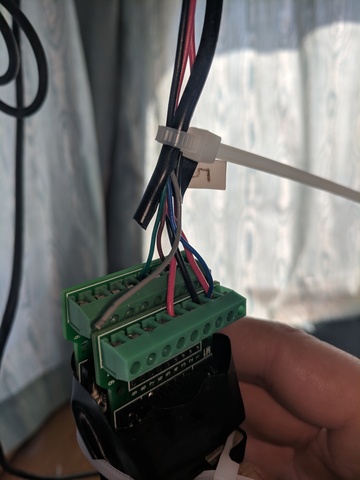 comments powered by

Disqus